21th Annual Arby's Child Advocacy Golf Classic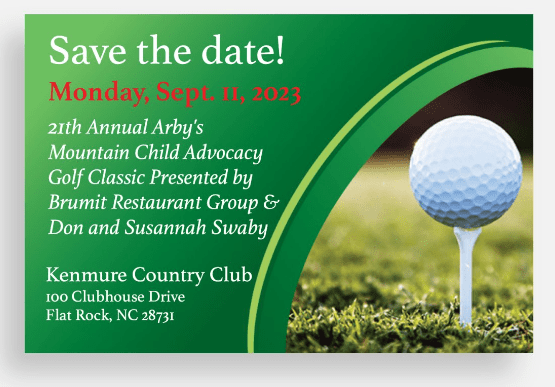 September 11, 2023
We are full this year, but you can still help by being a sponsor or donating to our Raffle and Silent Auction. Please reach out to Carla Jones at

[email protected]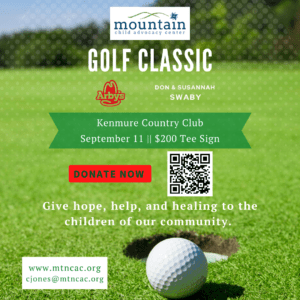 Congratulations to Geoff Sidoli, LCSW, Executive Director of Mountain Child Advocacy Center, who has been recruited away by the National Children's Alliance, the accrediting agency for all Child Advocacy Centers. Geoff has served as Executive Director of Mountain CAC since 2015, leading the agency from a staff of one employee, himself, to a staff of 20, serving hundreds of families every year with Prevention, Advocacy, and Therapy programs. At NCA, Geoff will be furthering the mission to bring best-practice evidence-based treatment to children who have suffered abuse trauma. Our loss is the gain for more children in the nation, and we celebrate that.
Mountain CAC is a 501(c)(3) non-profit, whose mission is to prevent harm, protect children and heal families through best practice programs and community collaboration. The Executive Director position is posted on Indeed and our website; should be or know a qualified candidate please send your resume and cover letter or direct candidates to  [email protected].
Thank you to all who attended our Spring Soiree.
It was a fantastic night filled with education on our services and a touching presentation from a graduate.
Thank you to our team of incredible individuals and our outstanding community for bringing hope, help, and healing to our kids.